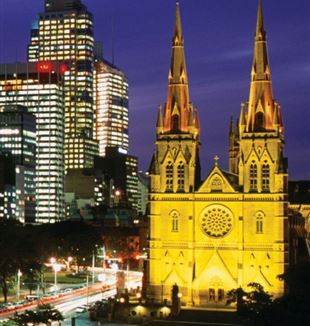 "Blessed" to be back at church
After more than three months, many Catholics could finally return to Mass across Churches in Australia closed due to the COVID-19 pandemic.
The progressive easing of the restrictions has allowed churches to open their doors to more people under the social distancing rules.
As parishes continue to transition out of the lookdown, some still follow live-streaming of Masses, which continue for parishioners unable to attend Mass physically due to health or space concerns.

https://www.catholicweekly.com.au/blessed-to-be-back-at-church/

Hundreds of worshippers gathered at Sydney's St Mary's Cathedral, observing social distancing and following the necessary hygiene precautions as reiterated by Archbishop Anthony Fisher OP in his pastoral letter related to the pandemic.

https://www.catholicweekly.com.au/archbishop-announces-further-easing-of-restrictions/

"It is with great joy, as we return to liturgical 'Ordinary Time', that our lives are also slowly reverting to their more 'ordinary' state", the archbishop wrote. "These past few months we have felt like the Jews in the Babylonian exile, unable to visit the Temple in Zion."

Does attending Mass in person have consequences on the everyday life of the Catholic and of our community?

Alejandra said that for her, to be able to attend her Mass every Sunday is like a breath of new fresh air and that she feels embraced.

Pedro, a parishioner at St Peter's Parish in Sydney said that his parish has an amazing choir and that he hadn't realized how much he missed physically going to Mass until he heard the songs that really helped him live the sacrament with much more conscience.

Finally, Andrea, as a father of four who normally looks after the smallest kid in the Church playroom, said that for him going to Mass created a lot of excuses for not really listening, as God is there and He always finds a way to reach out. At the end, what worked best for him was to follow the streamed Mass within the Church!