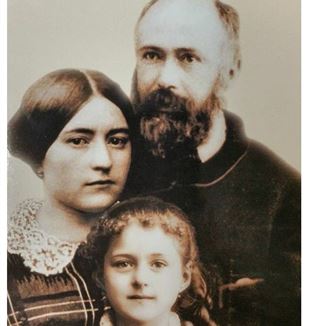 Parents and Saints: Louis and Zélie Martin
"Living the ordinary in an extraordinary way": Robert M. Haddad discusses the gifts and challenges of raising children in the faith.
The Australian tour of the relics of St Thérèse of Lisieux and her parents, St. Louis and Zélie Martin created a great opportunity for the Sydney catholic community.

Dr. Robert M. Haddad gave a public talk on the relics in St Joachim's Parish, Lidcombe.

The lecture was introduced by Marianna of the CL community in Sydney with the words of Saint Thérèse. When she recalled winter nights in her family when the family played together and then gathered to close the day with prayers, Thérèse usually sat on her father's lap, and she wrote of this moment: "All I needed to do was to look at him, to find out how the saints prayed."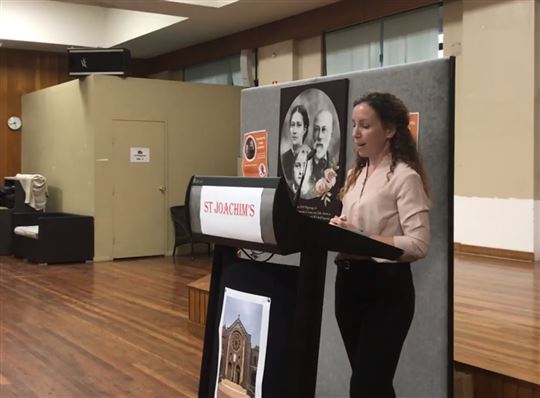 Robert Haddad covered some very interesting topics related to the example offered to modern families by Louis and Zélie Martin, the only married couple canonized together by the Roman Catholic Church.

He started with the virtue of selflessness. The Martins were models, showing ordinary way of heroism, through their marriage and their opening to life. Both tried to enter consecrated life, but they were discouraged, and when they married, they first decided to live as brother and sister in perpetual continence. However, when their confessor discouraged them from this path, they welcomed nine children in their family. They had also to forgo their wish of having sons who would become priests, as all their boys died. They were also unable to enjoy grandchildren, as all five daughters joined the Carmelite order.

Robert also deep dived into St Paul's letter to the Ephesians that sometimes comes across as controversial and how the Martins lived it. Emphasizing the opening, "Be subject to one another out of reverence for Christ", Robert explained how marriage is not about just balance, but is all about serving and sacrificing for each other. Equality is indeed good, but complementarity and unity are what brings a couple to peace, joy and fulfilment. The strengths of the spouses may be very different and will complement each other.

Another important topic that Dr. Haddad addressed is the example that the Martins gave to their children through prayers and daily Mass: in fact, praying together with children and going to Mass with them gives them the direction of what is important. This teaches children respect, while giving them freedom to grow into adulthood, following Robert's motto, inspired by St Augustine, "Love, and do whatever you want, without sin."

Finally, Robert explained how the message of the Martin family is not beyond our reach; these saints were human like us and their saintly models for parents showed us a clear pathway to follow.


Following the lecture, several parents of Catholic communities in Sydney took part in a panel discussing "The gifts and the challenges of raising children in the faith today. "
Andrea of the CL Sydney community related his experience in light of the Communion and Liberation charism and highlighted the importance to family life of education, experience, and the welcoming people and situations within the family. As Father Giussani explained, as a method for himself and the CL movement: "I am not here to make you adopt the ideas I will give you as your own, but to teach you a true method for judging the things I will say. And the things that I will say are an experience, which is the outcome of a long past: two thousand years."


Who is Robert Haddad? Robert is married to Suzy and they have four children. He holds university qualifications in law, theology, philosophy, and religious education. Robert has authored ten books, his most popular being Defend the Faith! and 1001 Reasons Why it's Great to be Catholic!. He works as the Head of New Evangelisation for the Sydney Catholic Schools Office and is currently completing a Ph.D. on the introduction of apologetics into secondary R.E. curriculum.

Watch Robert Haddad's lecture here.

Read also - Converted by the Blessed Sacrament, with the help of St. Thérèse